Optimal Hydration for the Modern Athlete
Use Before Every Workout
Optimal Hydration
Combats heat stress, cramping,
nausea and fatigue.
Peak Performance
Delivers a concentrated blend of the 5-essential electrolytes
Sustained Energy
Proprietary Endurance Release Formula works for up to 8-hours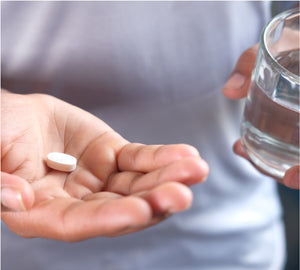 Get Your Salis
Easy to use. Nothing to prepare. Just swallow the Salis Tabs before every workout with a glass of water.
Why try Salis?


Contains all 5-essential electrolytes


Long lasting Endurance Release Formula


Gentle on the stomach


No Sugar, Flavors or Colors


Optimize Performance


Feel Great Every workout


Get Salis Now →
Salis is More Than Just Electrolytes
Easy to use. Nothing to prepare. Just swallow the Salis Tabs before every workout with a glass of water.
Works for 8-Hours
Our proprietary endurance release technology is designed to replace electrolytes over time
Gentle On the Stomach
The buffered formula is optimized to
avoid stomach irritation
Easy to Use
Salis is easy-to-use. Just swallow the tabs with a glass of water 30 mins before every workout.
Clean Ingredients
Salis is formulated to contain only the electrolytes  athletes naturally lose when they sweat
Allergen Free
No sugar, flavors, or colors. Naturally free of gluten, soy and dairy.
Chelated Zinc
Salis contains bioenhanced Zinc
to support healthy immune function.

One Packet.
Once a Day.
Before Every Workout.
FOR ATHLETES OF EVERY ABILITY
Every athlete loses electrolytes when they sweat whether you are a Novice or a Pro.

WORKOUT ROUTINE MADE EASY
All you have to do is swallow the Endurance Release Tabs before every workout with a cup of water.

BALANCED FORMULA
Formulated with a precise electrolyte ratio to optimize your performance to help you finish strong every time.

EASY TO DIGEST
None of the sugar, flavors or colors that may upset your stomach. Only the electrolytes every athlete naturally loses when they sweat.

★★★★★

Your product is legendary. I'll be buying more!

Ruba N.
★★★★★

I felt so strong and confident especially down the stretch in my race

Cassidy L.
★★★★★

I tried Salis for the first time on race day and felt great with no stomach issues

Jess K.
★★★★★

Salis is my best friend during marathon training

Michael S.
★★★★★

Salis is a freaking GAME CHANGER

Jared C.
★★★★★

I notice the difference and is absolutely the best hydration product I have tried

Yetley S.
★★★★★

I used Salis on a 21 miler. Didn't feel thirsty and felt strong. Simply Amazing

Mona T.
★★★★★

This is the only product that doesn't upset my stomach on my runs

Mark P.
★★★★★

Salis is the best. I felt so strong today and didn't have to stop for water once...

Nigel E.
Salis is made from the highest quality ingredients to ensure it won't upset your stomach. Our Endurance Release Technology works for up to 8-hours providing the micronutrients you need before, during and after every workout. Designed for greater efficacy and absorption.
QUALITY INGREDIENTS
We select the most effective and bioavailable form of every single ingredient in Salis to deliver the highest possible quality and value.
Full Ingredients List